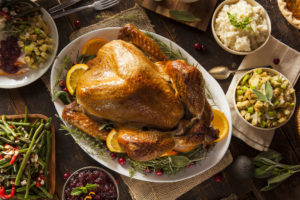 I've had an epiphany about wine pairings for Thanksgiving dinner. I think it's really not so hard, in a way.  In the past, my advice for pairings was tempered by the wide variety of time-honored, family-treasured dishes in the meal.
But now, I've decided that all the diverse dishes actually make the pairing easier in a way. The different flavor profiles of the dishes means that nearly any wine that's on lighter side, and within reason quality-wise, will pair with at least one or two of the dishes.
Untold numbers of geniuses spend a lot of pixels on advice for Thanksgiving, but really, there are a lot of valid options for this meal.  For example, an oaky Chardonnay will pair with the similarly rich and classic gravy-filled mound of mashed potatoes and with the mushroom soup-laden green bean casserole.  If you serve a crisp, un-oaked Chardonnay it will pair equally well with these fatty side dishes because the acidity cuts through the fat nicely.  If you serve a spicy sausage stuffing with the bird or any kind of spicy dish, a semi-sweet Riesling or Chenin Blanc will pair well with the spicy flavors.
I could go on, but below I give you some easy and delicious pairing ideas.  The last thing you need is more pressure for making everyone happy with this huge meal, so take my advice and move on to figuring out who will have to sit next to your irascible uncle who can't stop talking about politics.
Here are my suggestions for how to handle the wines for your turkey day feast.  I hope you have a wonderful Thanksgiving with family and friends!
General Suggestions
1. If you'll be having a big crowd, with lots of dishes contributed by your guests, keep the wine selections simple.  Maybe one white, one red, and a sparkling.
2. Choose wines that are easy on the pocketbook and buy a couple of extra bottles, because running out is the worst.
3. Wines with higher acidity will pair better with this meal, as the acid refreshes the palate and cuts through the rich food.
4. Avoid high alcohol wines, because this is a long day and you'll want to let the companionship take the spotlight.
5. Avoid very heavy reds high in tannins, as these can overpower the foods.  Remember that the wine should enhance this wonderful meal, not overshadow it.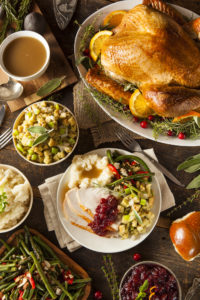 Thanksgiving usually includes a wide variety of dishes and flavors, so you'll want to go with wines that pair with a broad array of foods.  Here's my list of choices that will pair nicely for all these reasons.
Bubbles
Sparkling wine is always right and it's perfect for the beginning of the meal and/or as guests arrive. Your wine shop should have several good choices in the $20 range. Look for the term "Brut" on the label, which means the wine will be dry. And a Brut sparkling rosé would be an excellent choice too!
Whites
1. A white Burgundy, such as a Macon Villages or Chablis – Good acidity with clean, citrus flavors.  Or a fuller bodied American Chardonnay.
2. Chenin Blanc, such as a Vouvray – Floral, slightly sweet with good acidity.
3. Sauvignon Blanc – Nice acidity will help this pair with many of the flavors of your meal.
4. Pinot Gris – Good acidity and some sweetness, to pair with savory flavors.
5. Riesling Kabinett – A drier choice with good acidity.
Rosés 
They aren't just for summer!  The easiest choice is to choose a rosé from France or Spain, as these will have good acidity, or you may be able to find a tart California rosé.  These will pair with a broader array of Thanksgiving dishes.
Reds
1. Pinot Noir – Ideally from France or Oregon, as these will tend to be lighter.
2. Beaujolais Villages or Beajolais Cru. These are similar in body to a French Pinot Noir with more fruit and freshness. Ask someone knowledgeable in your favorite wine shop to point you in the direction of these wines, because they may not be obvious on the shelves.
3. Cabernet Franc – Pairs well with sweet, sour and robust dishes
4. Côtes du Rhone – Nice fruits that will complement the heavier flavors in the meal.
5. Barbera d'Alba – An acidic, lighter red that will pair nicely with savory flavors