Wine growing isn't easy, but this week in weather has been brutal. In fact, 2017 has been brutal for several wine regions, although California presents some unique wine issues. California's terrible fires have destroyed homes and vineyards,  and are presenting some unique issues for the wine industry.  It's too early to tell the toll it will ultimately take on the industry, but early reports are troubling.
Other wine regions around the world have had serious weather problems this year too.  The weather impacts every wine grower fears have befallen some regions, but California's problems, at least for the affected vineyards, present a very different outcome.
1. France –
France faces its smallest wine production since 1945. Spring brought a late frost to several regions, which destroyed the early, delicate growth.
The first growth that spring reveals is called "bud break" (photo above).  The vine produces buds that contain all the precursors for shoots, leaves, flowers and tendrils. When a bud starts to bulge and then open, it is delicate, and if frost hits it can be killed.  This year, the early spring in France was warm so bud break happened early, and then a devastating frost descended and many vineyards suffered the loss of this early growth on some of their vines.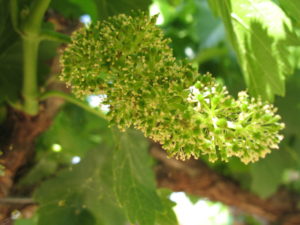 After bud break and leaf growth, the vine, like all fruit plants, sends out flowers for pollination (photo above). Behind each flower will follow a grape. However, if a frost or hail hits at this time, the flowers die and fall off, and there will be no grapes. The hail literally beats up the flowers and leaves, and they die.
This year, frost and hail hit the Loire Valley, Bordeaux's Right Bank, and parts of Alsace. The frost this year was the worst for Bordeaux since 1991.
On top of that, some regions suffered a terrible heat wave called "Lucifer," which made for smaller grapes. The upside of smaller grapes is that they produce more concentrated juice, although less of it. So while there may be less wine, it's likely to be more luscious.
But you know what lowered supply can mean – higher prices. So if St-Emilion is your favorite, get ready to pay more.
2. Italy – 
Italy is expected to have its smallest wine production in 60 years, down by about 25% overall. The hardest hit regions are Tuscany, Sicily, Puglia, Umbria, and Abruzzo, with yields down about 30%. Piedmont, Veneto, Friuli harvests are expected to be down by about 15%.
The combination of spring frosts and the "Lucifer" heat wave are also to blame for these sad outcomes. However, as in France, the smaller grapes caused by the heat wave are likely to result in more concentrated and luscious wines, even though there will be fewer bottles of them.
Italy is such a big producer, though, it is still expected to produce a prodigious 5.5 billion bottles.
3. Chile & Argentina –
Chile suffered high temperatures and low yields this year too. Hardest hit were the central regions that experienced high temperatures, drought and devastating fires. Yields in some areas were down about 26%.  And something called "smoke taint" (see below) is expected to affect some of the grapes too.
In Argentina, Mendoza experienced very cold weather in spring that affected flowering, with Malbec yields down about 40-50%.   The rest of the summer was pretty normal, but with some heat that caused an earlier-than-normal harvest. Production is expected to be lower for Cabernet Sauvignon and Pinot Noir too, down between 40% and 70%. Grape quality, however, is very good, so expect these wines to be delicious.
4. California –
Five years of drought have made parts of California a tinderbox. So when high winds whipped fires through Napa and Sonoma counties this week, entire vineyards and wineries were destroyed. It's too early to tell what the final damage toll will be, but it will be very bad for some producers.
Some California winemakers will lose their entire library of wines. Juice waiting to be vinified, wine aging in barrels and bottles – all destroyed. For a destroyed vineyard, this is very different than the partial losses a vineyard sustains from frost and hail.  The winery literally will have no wine to sell for a few years.
Other repercussions include the affect of smoke on grapes still on the vine. Napa and Sonoma experienced warmer than normal late summer, so luckily harvest was earlier than normal and about 90% of the grapes were already picked before this week's fires. But grapes still on the vines can be rendered nearly worthless because of "smoke taint." The grapes simply taste smoky and can't be used for fine wine. One estimate is that up to 10,000 acres could be affected by smoke taint.
Even the burned vineyard soils may be devastated. The fires burn not only the vegetation, but also the organic matter in the soil. As a result, the soil suffers from nutrient and microbial loss. Depending on the weather in following years, it can take a few years for the soils to recover.
Finally, as if all this weren't enough, vineyards can't recover very quickly when the vines must be replanted. A grape vine needs to be three or four years old before it delivers grapes for wine making. And to make wines approaching the quality of older vines, many more years will pass before higher quality is achieved again.  So for some wine growers it will be many years before they are  back to where they were a week ago.