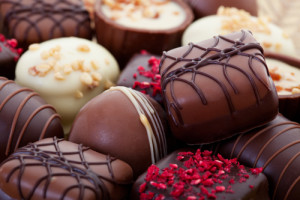 Valentine's Day can be one of the most stressful holidays.  You want to make just the right impression, find just the right gift, and set just the right mood.  And the right wine can help with all those things.  Whether it's the perfect wine for dinner or something extra to enhance a beautiful box of chocolates, here are some great ideas to make your Valentine's Day a success.
The most romantic of wines can be as simple as your sweetie's favorite wine.  But Valentine's Day is for something special, so make the wine special too.  The most romantic wine is probably a sparkling rosé, and if your budget can manage it, Champagne.  Many other budget-friendly rosé options abound (Crémant de Bourgogne would be a third the price and wonderful), and nothing lifts the mood like a beautiful salmon-pink sparkler.  If you like dry sparkling wine look for the word "Brut" on the bottle.
Other fantastic sparklers perfect for Valentine's Day are Brachetto d'Acqui, a dark pink-to-red sweeter sparkling wine from Italy, Prosecco, the light Italian sparkler with delicate flavors of apple, pear and citrus, and of course Cava, the Spanish sparkler.
If you're going out for dinner, a luscious red is likely in order to pair with steak and heavier dishes, or  maybe a lighter red to pair with seafood and lighter dishes.  The bolder (and pricier) reds that would make this meal special are Super Tuscans, a luscious American Cabernet Sauvignon, a Barolo or perhaps an Amarone.
But let's get to the quintessential component to this special day – the chocolate!  The tricky part is that chocolate is tough to pair with wine. Chocolate comes in a variety of forms – sweet, bitter, milk, with nuts, with salt, with fruit. So it's not a one-size-fits-all situation. On top of that, chocolate is a dominant flavor and will override a white or light red wine, and compete even with reds for your palate's attention. So rule #1 is that you need a fairly heavy, fruity, even jammy red, with some caveats. Some of these wines may be new to you, but I promise they're worth a try.
Let's start with the basics. The wine should always be sweeter than the dessert. Otherwise, the sweet dessert will make the wine taste less sweet, less fruity, and more bitter. And pair a chocolate dessert that incorporates fruit with a wine with the same fruit profile (e.g. berries with a berrylike red).
Generally, serving chocolate is not the time to bring out a dry wine. There are a few exceptions that you'll see listed below, but those are rich and fruity reds with no tannins. And as usual, think about pairing lighter bodied desserts with lighter bodied wines and fuller bodied chocolate with richer wines. Milk chocolate should be paired with lighter, fruitier and lower alcohol reds; dark chocolate with a bolder, heavier-bodied wine.
And serve these wines slightly chilled.
One wine stands out as the most versatile with chocolate. It's called Banyuls, a deep, fruity red from the south of France that is luscious and delicious. Usually it comes in a half bottle and you should be able to find it in your favorite wine shop. If not, look for something with a similar profile, such as a Ruby Port, Pedro Ximinez Sherry or Late Vintage Port.
Below is my handy chart to give you a quick reference guide. Let me know what you try and how you liked it. Bon appétit!
| | |
| --- | --- |
| Dessert | Wine Suggestions |
| Milk Chocolate | Tawny Port;  Brachetto d'Acqui (semi-sparkling Italian red);  Cream Sherry;  Muscat;  Tokaji |
| Chocolate With Fruit | Orange Muscat;  a fruity red;  Sparkling Rosé;  Banyuls |
| Chocolate Cake | California Merlot or Merlot-based blend;  Shiraz;  Banyuls;  Ruby Port;  Late Bottled Vintage Port;  Rasteau (see below) |
| Chocolate With Nuts | Amontillado Sherry;  Oloroso Sherry;  Madeira |
| Caramel Chocolate | PX Sherry;  Cream Sherry;  20 Year Tawny Port;  Moscatel de Setubal;  Madeira;  Amontillado Sherry;  Demi-Sec Champagne |
| Dark Chocolate | Banyuls,; Late Harvest Zinfandel;  Ruby Port;  Maury (a French red fortified sweet wine from the Roussillon region, similar profile to Banyuls) |
| Salted Caramel Dark Chocolate | Cream Sherry, Banyuls;  Rasteau (French (Rhone Valley) fortified dessert wine usually made from red Grenache, often lighter than Banyuls) |
| Chocolate Dipped Strawberries | Semi-sweet Sparkling Rosé |
| White Chocolate | Sparkling Rosé;  Ice Wine;  Moscato d'Asti;  Champagne or other Sparkling Wine |