If you're like me, the heat is getting to you and you're looking for a refreshing drink to help you cool off. So here you go – the perfect wine concoctions for these blisteringly hot summer days. Call them frosés, wine slushies or frappé à la glacé – this summer they're a big thing and you'll be the cool kid on the block when you make them. The most exquisite example was even invented over 150 years ago in Philadelphia. I've made a few, tasted them with a crack tasting panel, and now I can bring you the results and the recipes. It was a dirty job but you know I'm always here for you.
There are three basic ways to make a refreshing frozen wine drink. You can make a slushy drink with wine and fruit, make the wine version of an ice cream float, or simply a frozen wine dessert. They are all delicious and truly refreshing. I mean really refreshing. And you can make them well in advance of a party and keep them in the freezer, or just keep them on hand for whenever you want to pull them out. I want to hear how you like them. So here they are:
1.  Champagne frappe à la glacé –

I have to admit this is my favorite, maybe because it's from the book The Thousand Dollar Dinner, America's First Great Cookery Challenge. The book recounts the fantastic 17-course, 12-hour dinner prepared in 1851 by Philadelphia's leading chef. The meal was part of a challenge between 15 Philadelphians and 15 New Yorkers for best food city. The New Yorkers admitted that this meal beat their earlier hometown effort and Philadelphia won the challenge. The book's author, Becky Diamond, has recreated what was featured at the end of that meal, Champagne frappe à la glacé, basically sparkling wine poured over ice, but it's so much more. It's really delicious, and so said everyone who came to the COOK celebration of this dinner last week. And those who came to last night's Summer Wine class loved it as well. And it only takes about 30 minutes to put together. Here is Becky's full description and below is her recipe with my comments inserted. I used Cava, the Spanish sparkling wine, as it's a fraction of the cost of Champagne and is delicious.
| | |
| --- | --- |
| | Zest and juice from 3 lemons |
| | 2 bottles Champagne (or Cava) |
Place bowl of ice cream maker or stainless steel bowl in freezer overnight or at least eight hours, until sufficiently chilled.
Make a simple syrup by combining the sugar and water in a large saucepan and bring to a boil over medium heat. Reduce heat to low and simmer without stirring until the sugar dissolves, about 3 to 5 minutes. Cool completely.
Take the bowl out of the freezer. Pour lemon juice and zest into bowl and then add a bottle of Champagne (or Cava). Add sugar syrup to taste – I recommend starting with just a cup and adding more if needed.  (I did not want mine too sweet so I ended up using about half the syrup and refrigerating the rest for another time).
Mix using an ice cream maker as per the manufacturers instructions. [Becky says you canjust put it in a bowl in the freezer and let it chill, stirring once in a while. I agree I think think this would work fine.] When done, return to freezer until ready to use. If using tinned bowl, transfer to the freezer and freeze for several hours, checking periodically and stirring the mix if necessary.
Two hours prior to serving, place a bottle of chilled Champagne (or Cava) in an ice bucket. Surround with an equal amount of crushed ice and ice cream salt.
When ready to serve, spoon a scoop of water ice into Champagne flutes and pour the semi-frozen Champagne (or Cava) over.
2. Sparkling Wine Gelée with Stone Fruits
This one is from the Philadelphia Inquirer. You basically make a gelatin using sparkling wine, then warm fruit with simple syrup and pour it over. It was the tasting panel's favorite. I think this took me under 30 minutes to prepare. Then you just have to refrigerate it for several hours.
| | |
| --- | --- |
| 1 cup cold water – ½ cup at a time                                              | |
| 2 envelopes unflavored gelatin          | |
| | |
| | 2 cups total peaches, nectarines, plums or a mixture, thinly sliced |
| juice of ½ lime plus more to taste | |
Make the gelée by pouring ½ cup water into a large bowl and sprinkle the gelatin over it. Let it sit for 5 minutes.  Warm the other ½ cup of water in a saucepan with 1 cup sugar. Stir until the sugar dissolves.
Pour the warm sugar syrup over the gelatin and stir until the gelatin completely dissolves. Add the sparkling wine (it will foam, which is why you need a large bowl) and the lime juice. Add more lime juice if needed to taste. Cover and refrigerate for 6 hours.
In a small saucepan warm 2 tablespoons of sugar and remaining ½ cup water, stirring to dissolve the sugar. Remove from heat and stir in all the fruit, allowing it to soak for 15 minutes.
To serve, spoon some of the chilled gelée into wine glasses or goblets. Add some berries and a few slices of fruit and layer with more gelée. Repeat until the glass is full. Makes 6 servings.
3. Orange Mango Riesling Float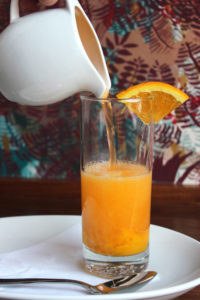 This one is in the category of ice cream float, and it would make a great dessert or a fabulous, refreshing drink. I was amazed at how refreshing it is. It's from Country Living and click here for three more recipes for other options. The amounts below make one serving and the photo from Country Living shows how delicious it looks.
| | |
| --- | --- |
| | 2 fluid oz. Orangina or other similar juice-based orange soda |
| | Garnish with a slice of orange |
Place the gelato in a glass, pour the orange soda and the wine over it, garnish with the orange slice, and enjoy!
4. Frosé –
Oh boy do these look delicious – ten rosé wine ideas for frozen wine made into a great drink or a dessert. This is from Shape.com and you have a lot to choose from. You can see how pretty it is in the photo below from Shape.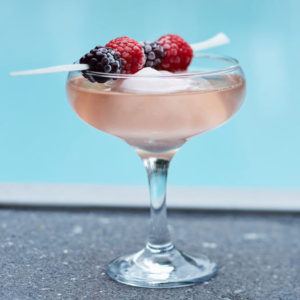 The frosé is but one sample, and this article has nine more delicious options. Their frosé recipe is made simply by pouring sparkling rosé wine over strawberry sorbet and topping with fresh berries. Couldn't be simpler or more delicious. What a great idea for a quick summer dessert.
5. Rosé sorbet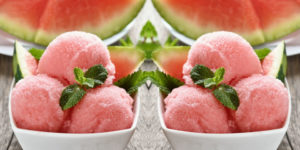 If you're really ambitious you can try this watermelon sorbet from Harpers Bazaar, which uses Pinot Grigio to make the gorgeous dessert in the photo.
6. More
Here are links to more I've found but haven't tried. And there are many more. I told you they're a big thing this summer. Enjoy!
Ombré Wine Granita from Cosmopolitan – this quick video tells it all
Go for it and let me know which one you make!