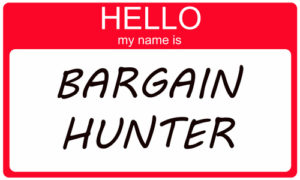 If you've been coming to my classes or private events you know that my wish for you is that you'll try new wines and expand your wine repertoire.  And in earlier posts I've suggested wines you might enjoy based on wines you already like.  Let's face it: life is way too short to drink the same wines over and over again simply because we're afraid we'll be disappointed in the new wine, or for whatever reason we all get in a rut.
So I'm giving you a really good reason to expand your personal wine list – bargains! I don't mean bargain wines that suffer in quality, but wines that are very good quality and for whatever reason have not reached a commensurate price. So get your pens ready to make your new list.
Wine goes through a maturation process and believe it or not, so do wine regions.  I'm referring to maturation in the sense that a region improves its techniques and eventually makes high quality wine on a recognized, consistent basis.  The history of wine over the centuries is replete with examples of wine regions that made great wines for a time and for one reason or another began to overproduce their grapes and produced millions of gallons of lower quality or bulk wines.  This has happened to entire countries and smaller regions.
For example, there was a time in its long winemaking history that Spain made notable wines. In the 1950's, after coming back from a variety of natural and manmade problems, Spain returned to the world wine scene by making a lot of bulk wines.  They reaped the result of overproduction – a worldwide reputation for making cheap, lower quality wines. Eventually they reduced yields, improved growing and production techniques and have the quality wines to show for it.  Call this maturation or just the cyclical reality of the arc of history, but it is a reality in wine in many different permutations.  For example, nothing simpler than the mere huge popularity of a wine can cause overproduction, which invariably leads to lower quality and the reputation to match.
The good news is that when wine regions are regaining their quality glory there's a lag time before the market recognizes it, and quality and prices do not match.  On the other hand, there are regions large and small around the world that the rest of the world just hasn't recognized yet, so their prices don't reflect their worth.  And for that, you as a wise consumer can be thankful.  Here are some regions and their wines that at this point in time are making very good value wines.
1.  Spain –
Spain has long been a value wine producer and you know the reason for it from the discussion above. There are so many regions and so many grapes that the choices are vast. A few examples are:
Albariño from Rias Biaxas, the Northwest Atlantic coastal region that produces these crisp, floral whites.
Verdejo, from the high altitude Rueda region, the luscious white with citrus, minerality and great acidity.
Rioja of course, perhaps the most famous region, producing fantastic reds (and whites) with a bit more earthiness than the fruit forward reds you may be used to, but truly delicious with beautiful dark fruit flavors and a great value.
There are so many Spanish wine regions that you can try wines from all different regions and find your favorites, all while having a lot of fun but not overspending.  And by the way, don't forget Sherry, the famed fortified wine of Spain. Give it a try and you won't break the bank in doing so.
2.  Chile –
Years ago Chile was known for producing a lot of nice but boring wines. And they were cheap. But other countries can produce cheap wines, like Australia, Argentina and others. So Chile had no way to distinguish itself.  Now, Chile has upped its game and is producing much higher quality wines but the prices have not risen – yet. So now's the time to find bargains.  And if you haven't had Chilean wines in a couple of years you'll see a difference in improved quality.  Good choices are Carmenère, Cabernet Sauvignon, and Sauvignon Blanc.
3.  Alsace, France –
Whites from Alsace are wonderful and I think the reason for their good value is that in some markets, notably in this country, they haven't caught on nearly they way other wines have. In most circumstances Alsatian wines are the true expression of a given varietal and style. And fantastic examples can be had for half their true value, many in the $20-$25 range.  I really recommend you try some of these. For example, Pinot Gris is the more aromatic, floral, slightly sweeter expression of the Pinot Grigio grape.  It's designed to be a very different profile than the lighter, mineral-laced Italian style. Pinto Gris is a showstopper in my book, pairing well with spicy foods such as Thai or Indian, or smoky foods and many others.  Many other Alsatian wines are wonderful too and you should try them all.
4.  Chianti, Italy –
Chianti is a well-known Italian region and you'd think the prices would be appropriately high due to its notoriety. But a funny thing happened a few years ago.  There was a trend for Chianti Classico to be made using popular international grapes not indigenous to Italy, like Cabernet Sauvignon, Syrah, Merlot.  You can guess why – to enhance the flavor profiles to mimic popular American and Australian reds.  But they didn't reflect the region and they just became part of the fruit forward landscape.  So now the Chianti Classico wines have found their way home again, letting the great Sangiovese grape shine and incorporating other indigenous grapes, and they are making great wines.  But the world hasn't quite caught up and neither have prices, so we are the beneficiaries.
5. South African White Wines –
South Africa has been upping its game for the last couple of decades. And while it's very much on the map now, there are still some great values in these really interesting wines, especially the whites. Think Sauvignon Blanc, Chenin Blanc and Chardonnay. Many are made in the Bordeaux style, showing the attributes of their regions in an authentic profile in minerality, acidity and fruit.
6.  Others –
Duoro, Portugal – These wines continue to fly under the radar but for under $20 you can find astonishing reds. They are the same grapes used to make Port but used for red table wine.
Loire Valley, France – From the Muscadet wines on the Western end to the Sauvignon Blanc and Pinot Noir on the Eastern end, and everywhere in between, you'll find bargains galore. Also try the Cabernet Franc – red and rosé – from Chinon, and a Chenin Blanc from Vouvray. And more await you once you start this adventure.
Sparkling – For my money the best quality to price ratio for sparkling wine is found in the Crémant de Bourgogne wines. For well under $20 you can get a stunning sparkler with the profile of an actual Champagne.